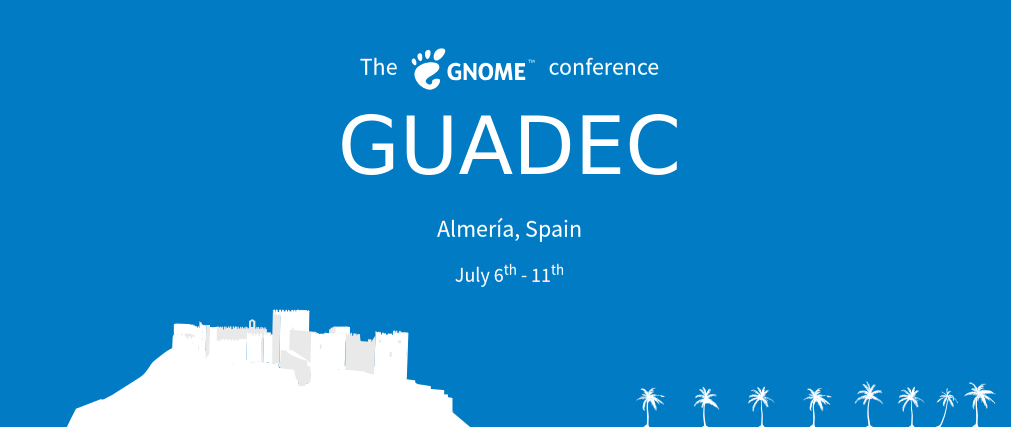 We are pleased to announce that registration for @guadec is now open! https://t.co/1yagN91Mci

Please see https://t.co/aL8rP6aVMU for more details! See you there! pic.twitter.com/cOARtORJSN

— GUADEC (@guadec) June 12, 2018
Tenemos el inmenso placer de anunciar que ya está abierto el registro para GUADEC 2018 que tendrá lugar los días 6-11 de julio en nuestra ciudad de Almería. El encuentro incluye tres días de conferencias, 3 días de talleres y encuentros técnicos y varias actividades sociales para los miembros de la comunidad de desarrollo GNOME.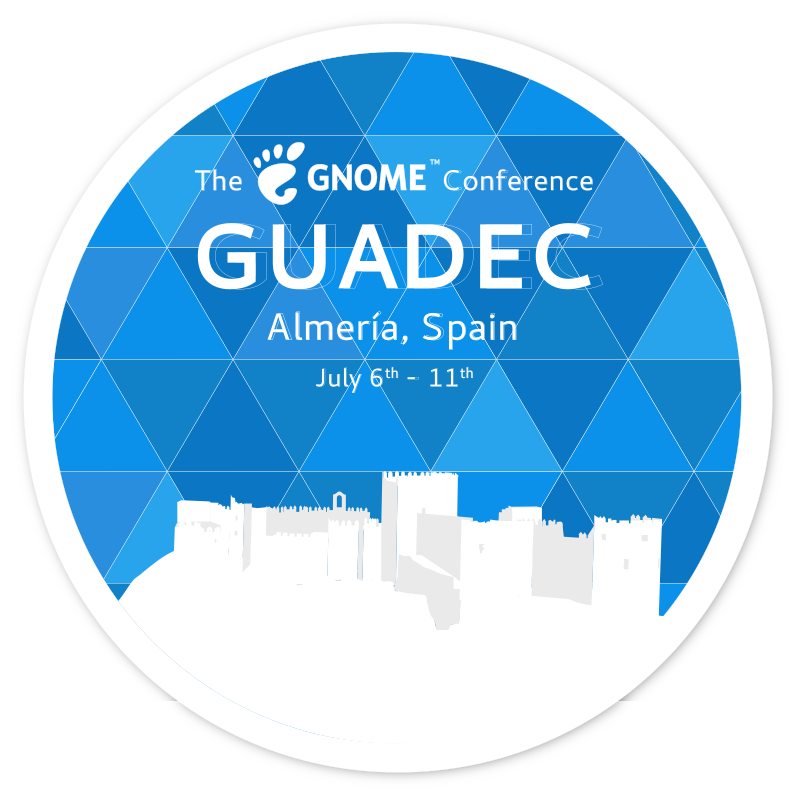 Acerca de GUADEC
El Congreso de Usuarios y Desarrolladores de GNOME (GUADEC) es una reunión anual de desarrolladores y entusiastas de GNOME, así como de usuarios individuales, empresariales, educacionales y gubernamentales de todo el mundo. Proporciona un foro para miembros del proyecto GNOME para mostrar su trabajo y discutir acerca del futuro desarrollo de GNOME. GUADEC también es el hogar de iluminados del software libre, líderes de IT de alto nivel gubernamentales y empresariales que discuten estrategias, opciones de despliegue y el futuro del software libre. Cada año la GUADEC se aloja en un país europeo distinto.
¿Quién puede venir a GUADEC?
GUADEC es el mayor encuentro anual internacional de la comunidad GNOME, pero también es un punto de encuentro de entusiastas y tecnólogos apasionados por el desarrollo de software en comunidades abiertas, del software para usuarios finales y los interesados en la creación y mantenimiento de infraestructuras de la sociedad de la información ampliando los procomunes digitales.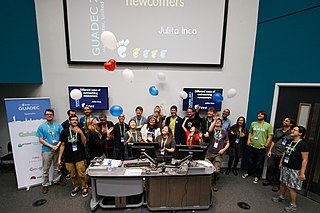 No dejes de venir.
Más información en:
Correo-e: guadec-list@gnome.org
Grupo Telegram: @GUADEC
Twitter: @GUADEC

Acerca de GNOME
GNOME es un entorno de escritorio e infraestructura de desarrollo para sistemas operativos GNU/Linux, Unix y derivados Unix como BSD o Solaris; compuesto enteramente de software libre. Con una base de millones de usuarios en todo el mundo y adatpado a 166 idiomas y está disponible en las principales distribuciones GNU/Linux, incluyendo Fedora, Debian, Ubuntu, Red Hat Linux, CentOS, Oracle Linux, Arch Linux y Gentoo.